For anyone who knows me will know two of my quirks is the love of anything vintage and the fact I am a huge football buff! But when these two subjects combine, be sure I will be doubly excited! In the past, I have collected a fair share of football shirts and still own my first ever Jim Leighton Man Utd goalkeeper shirt from 1988! Unfortunately it no longer fits me but wearing this shirt when I was a kid made me think I was him and every shot I saved I'd scream and "Leighton pushes it past the post!!". I went through a stage buying old ones off eBay – in particular anything Adidas Originals, some not to even to wear.. just look at! Kind of geeky I know. As my local team is Grimsby Town, there's one shirt (below), which has eluded me over the years, this beautiful Adidas home shirt from 1981-1982. If I could ever get my hands on this then I would be one happy bunny!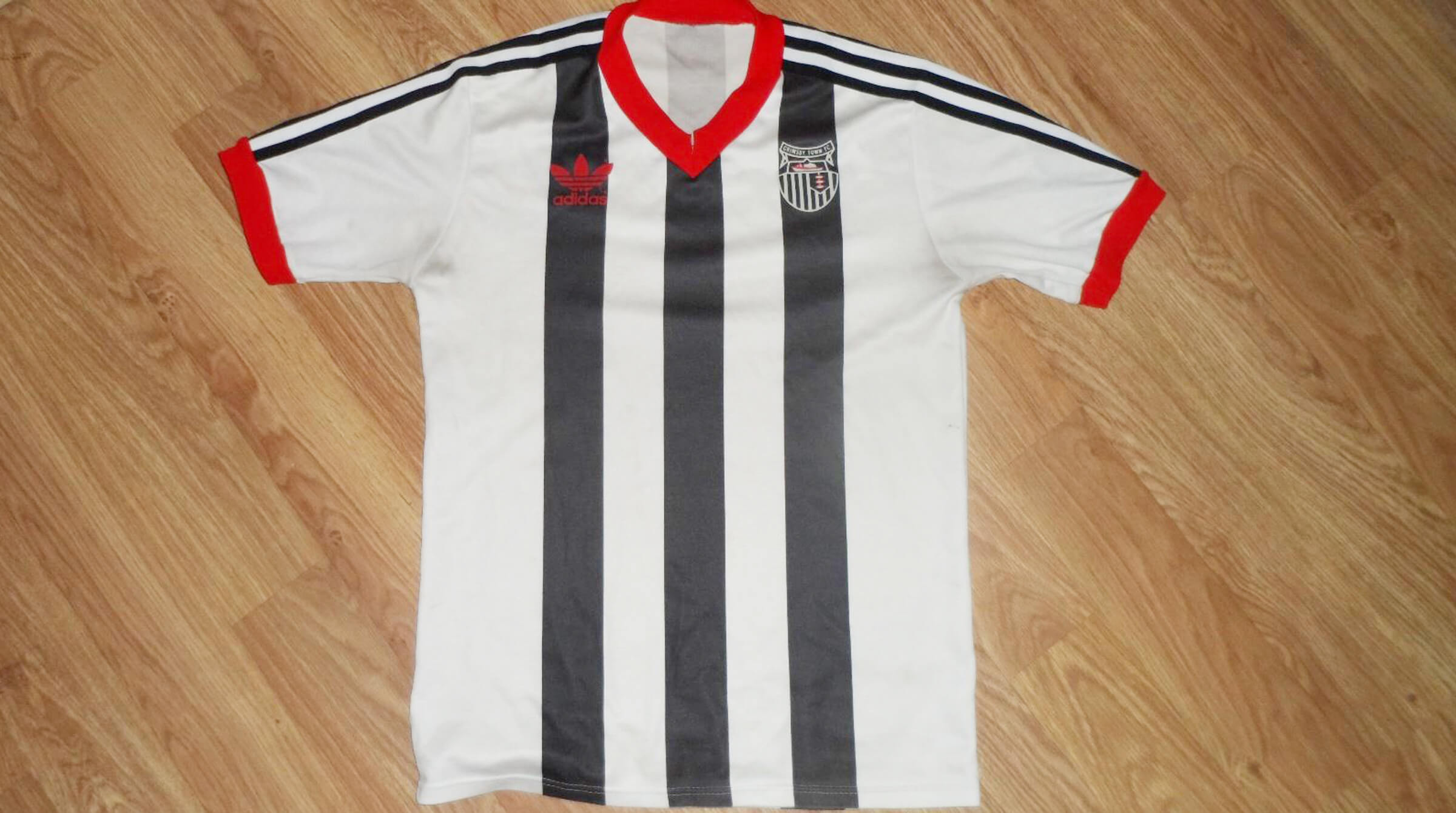 This led me to a conversation with my good friend Matt… who too had been looking for this Grimsby Town shirt from the 1979-1980 season – Poor manufacturing and the fact there weren't such thing as mass produced replicas back then means this shirt will probably not even exist anywhere. There is something about this shirt, which we both liked. I am not sure if it was the weird placing of the sponsor – kind of unique.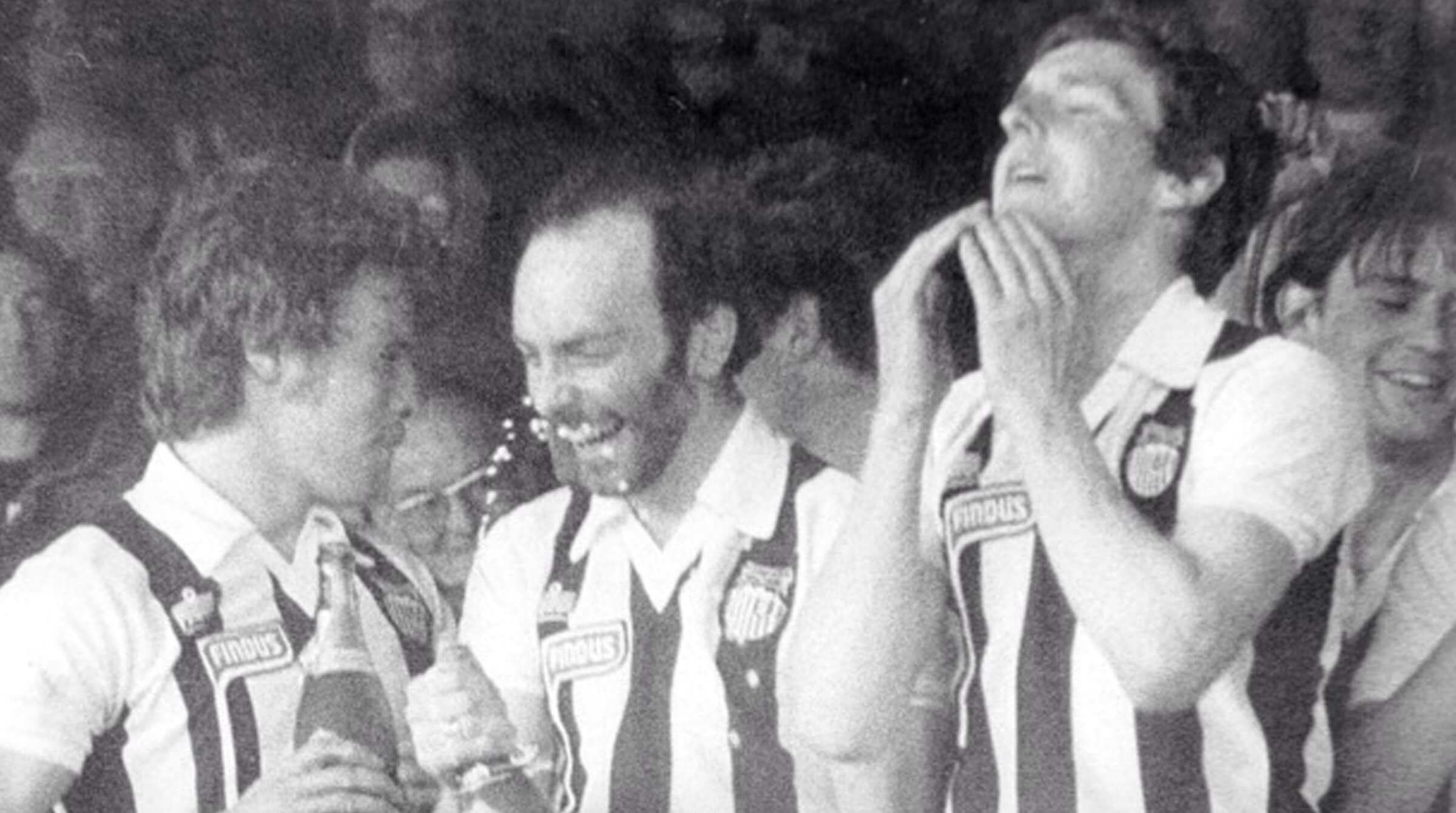 Grimsby Town are famed for their black and white stripes but from the beginning of the 1970s they adopted white sleeves and the shirt from this season was was probably the best one from that era. Admitting defeat we decided, the only way to get anything close was to this was to recreate it ourselves! Collectively – the perfectionists that we are and with (a little) help of his mum we laboriously concocted this shirt and this is how we did it… Matt sourced the nearest thing to a 'proper vintage' shirt from this website www.camporetro.com… There are a few vintage replica companes out there such as TOFFs and Score Draw… but we were looking for a shirt, which was less of a finished article / template shirt, and we found Campo Retro did just the job. The guys at Campo Retro obviously take pride in their job and the products they produce. Matt even requested his number '81' to be placed on the back – which they carefully hand-stitched to the shirt. This added to the product's authenticity. Not many companies would revert to hand stitching numbers on the back of shirts!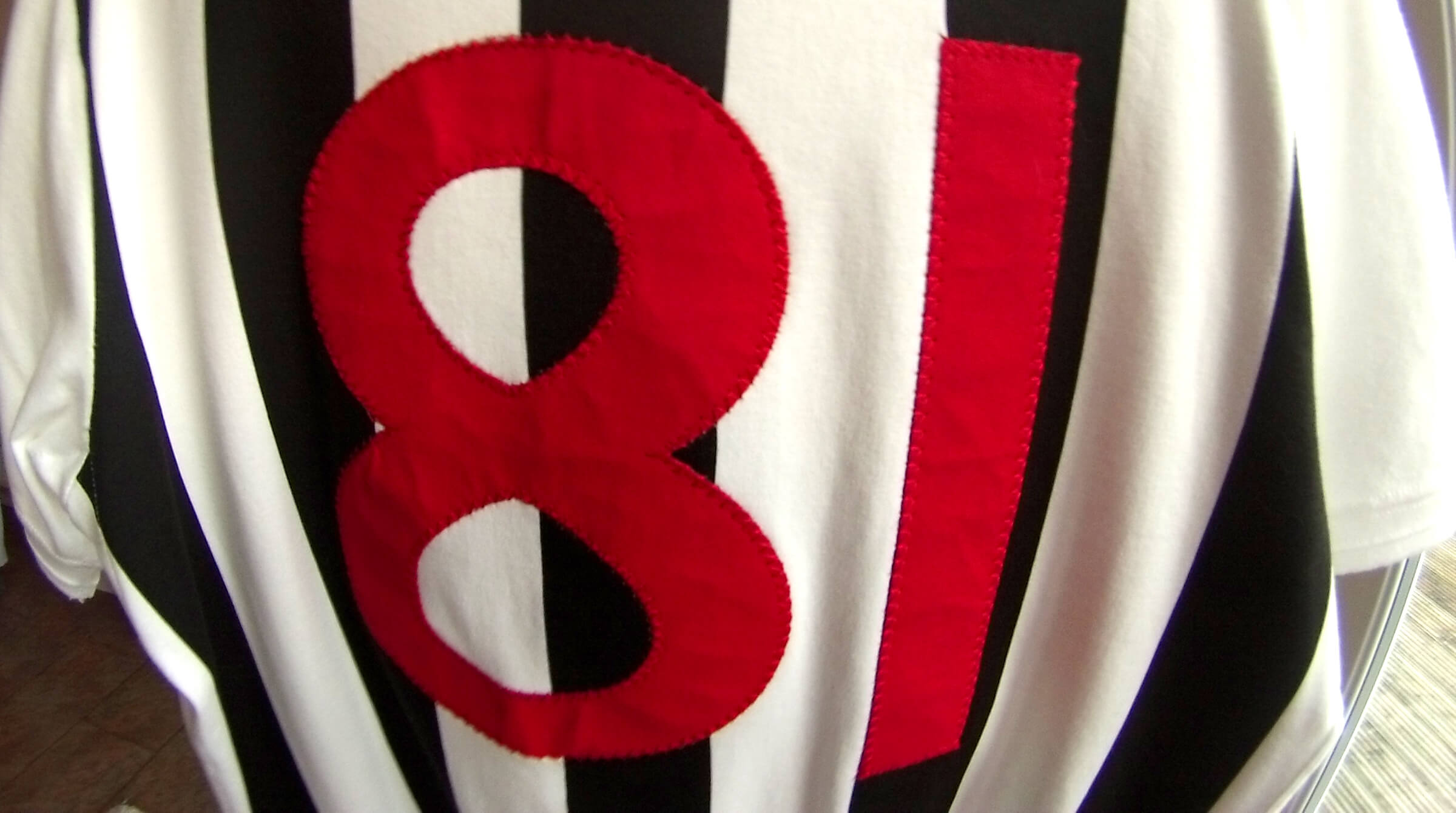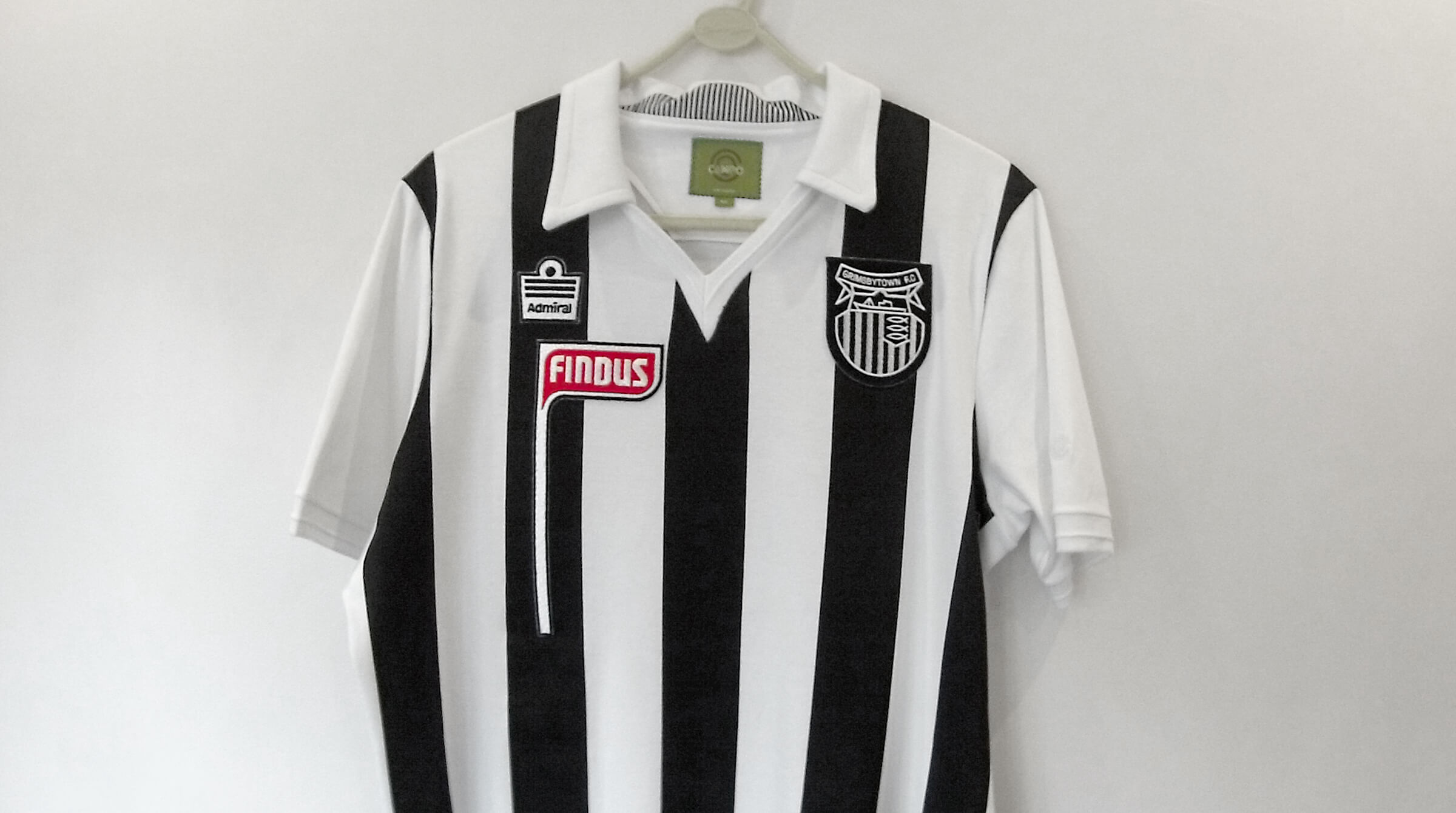 Key to the shirt was that it required white sleeves – which co-incidentally the 'Mariners' have switched to this season – Not to be outdone, he bought a Sao Paulo shirt unpicked the white collar and sleeves and carefully stitched to the striped shirt – Genius! Once completed the shirt began to take shape! Carefully, we measured the dimensions of the badges we needed. This I feel out of everything was most critical. I would have hated them to look out of place or out of proportion… this alone took a WEEK to figure out! I was given the task of vectoring the Admiral, Findus and Grimsby Town badge and providing them to a brilliant contact of mine who embroidered them on felt. I think you will agree they look great!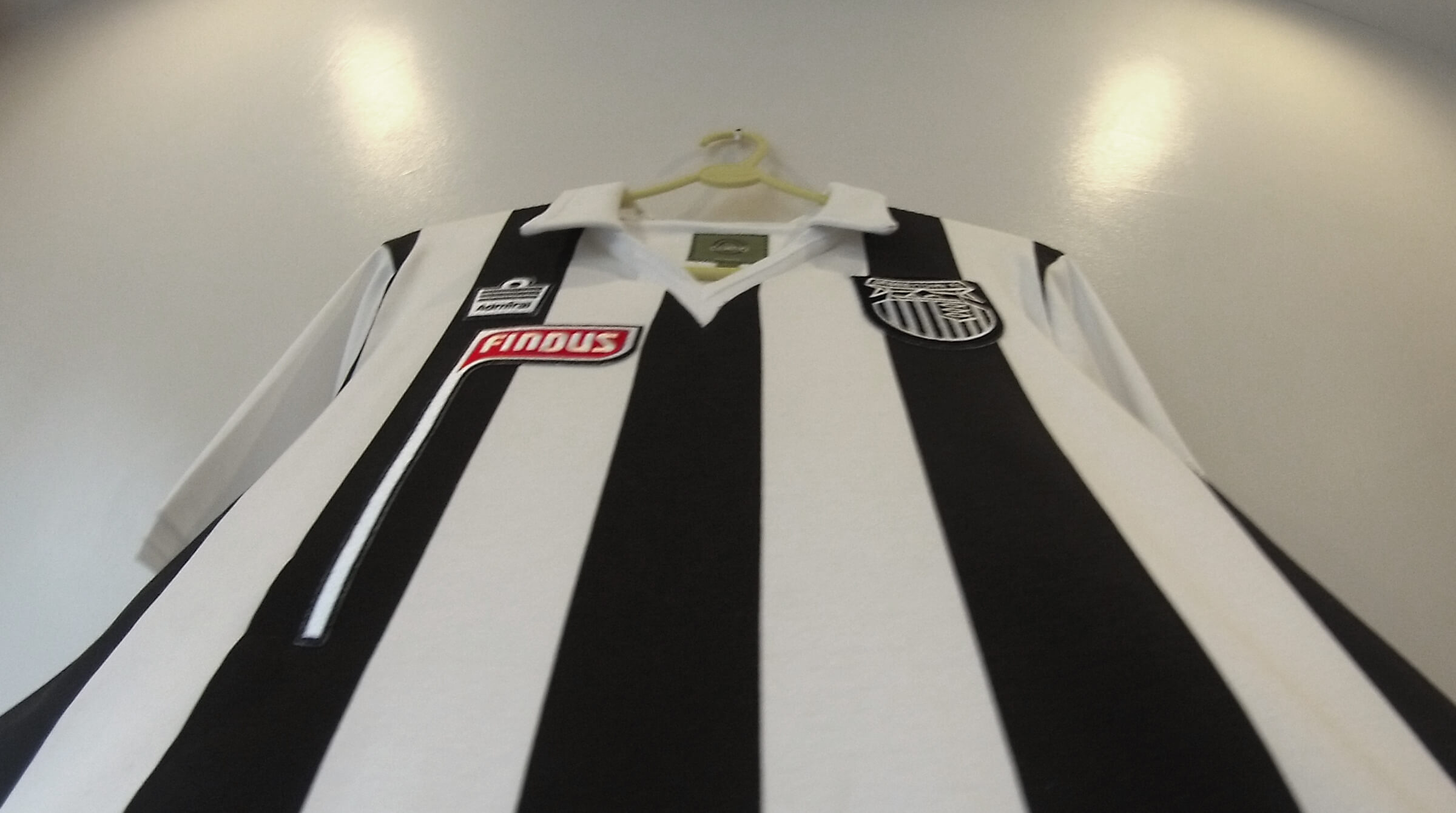 All that was left was the final preparation of the badges. Treating them, which prevents the badges from 'fraying' and wear. Matt took the honours in gluing them in position and finally stitching to make sure they were fixed neatly in place. Now a lot has been said about Grimsby recently, but one thing is for sure… They have had some pretty awesome shirts in the past and I am convinced this near as dammit 'one of a kind' replica justifies that! 🙂
---
Categorised in: Grimsby Town KidDotCo