It seems only fitting that on the day of England's first game of World Cup 2018, that I unearthed this little gem. Casting my memories back to the summer of 1990 – TWENTY EIGHT years ago – when Mike and I received a letter from England international footballer Neil Webb.
Growing up in a family of Manchester United fans, it was only natural we followed the Red Devils. Believe me, we were the epitome of 80s footballing kids who would do nothing but play in the street, in the park and sometimes a tournament at the local leisure centre. None of this video game or iPad generation.
I was an aspiring goalkeeper, 2 foot nothing but loved diving around in the mud – playing like my hero Jim Leighton! My mates used to even practice how to dive for penalties and mastering the art of rounding a keeper and burying the ball in the back of the net. Only real football fans would 'get this'. I recall the six weeks holidays (which felt like 12 weeks) was 95% getting everyone together for a kickaround, a game of "Volleys and Headers" or a game of "World Cup" when things got serious! Football back then was very different.
While we had the luxury of ITV Sport broadcasting live games on a Sunday Tea Time "The Match – Live on ITV", the only other form of coverage was from Saint and Greavsie, Sportsnight or page 302 on Ceefax!
It was the summer of 1990, shortly after Man United won the F.A.Cup versus Crystal Palace, my parents presented the idea of going to Old Trafford, Manchester to have a stadium tour? What 9-year-old kid wouldn't want to do that?
I distinctly remember my dad's blue Ford Fiesta being packed with SIX people, my parents, Mike, my sister and my Nanna, who came along for the ride. I am actually wondering how we even made it there as Manchester is about 2 hours away!
This was my first visit to the 'Theatre of Dreams' – it certainly wasn't the ground we know now, it still had the famous 'Wonderfuel Gas' Stretford End… but it was incredibly exciting none-the-less. There weren't that many people there from what I can remember. We were lucky enough to get on the stadium tour which was brilliant. it had a certain Willy Wonka feel to it – like a kid in a candy store. We got to visit the museum, see the F.A.Cup in all its glory, a tour of the changing rooms. I was in my element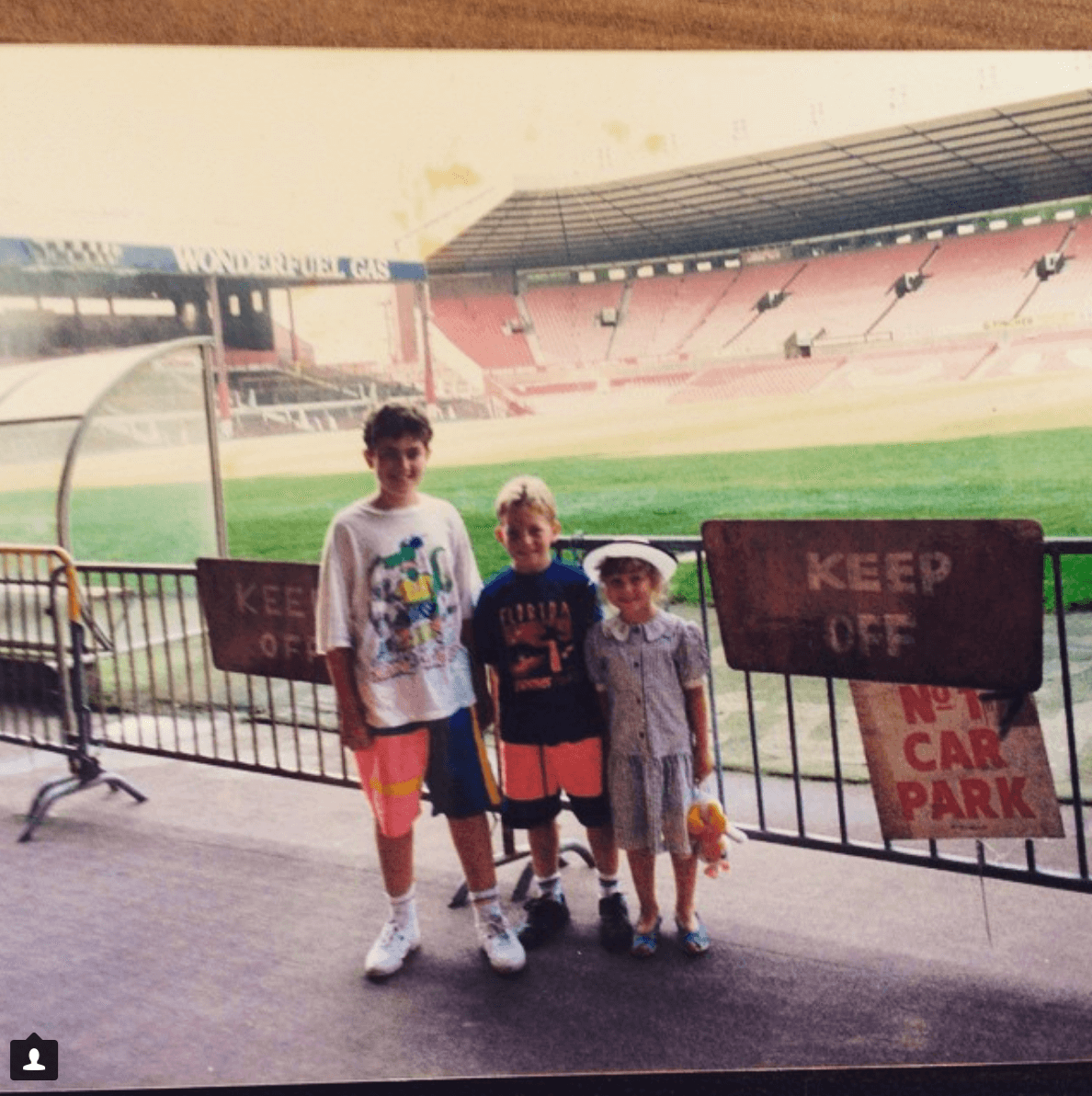 It was really sunny that day I remember, we took a look round the club shop, I was so desperate to get the new shirt. It was the year United brought out the crazy Adidas blue and white away shirt – I adored it! I totally jumped at the chance to get it when my dad asked if I wanted it.
You could buy autograph cards which you could get players to sign either on the day, after a match or send them to get signed in the form of a letter. My favourite players at the time were Jim Leighton, Mark Robins, and Neil Webb. Webb signed a year earlier and he instantly made an impact on the first day of the 1989/90 season scoring a long-range effort in a 4-1 win against Arsenal.
No players were around at that time of our visit, so it meant me having to send the cards off when we got home, which I did almost instantly with a little note attached telling them about our visit. After few weeks I received autographs back from both Leighton and Robins, but A4 sized envelope sent from Neil Webb! In it a souvenir England 1990 pull-out, his autograph and a handwritten letter from the man himself. Wow, just WOW! It Read:
Dear Paul & Michael, First let me apologise on two counts – for missing you when you visited Old Trafford and also the delay in replying to your mum's letter – by the way, what a great mum taking you out for a day out to United. I hardly did anything last season because of a bad ankle injury and now it's all go, but I don't mind, I'd love to play football for Man U every day! We are doing well at the moment and I'm really honored to be captain until Robbo returns. Best wishes, Neil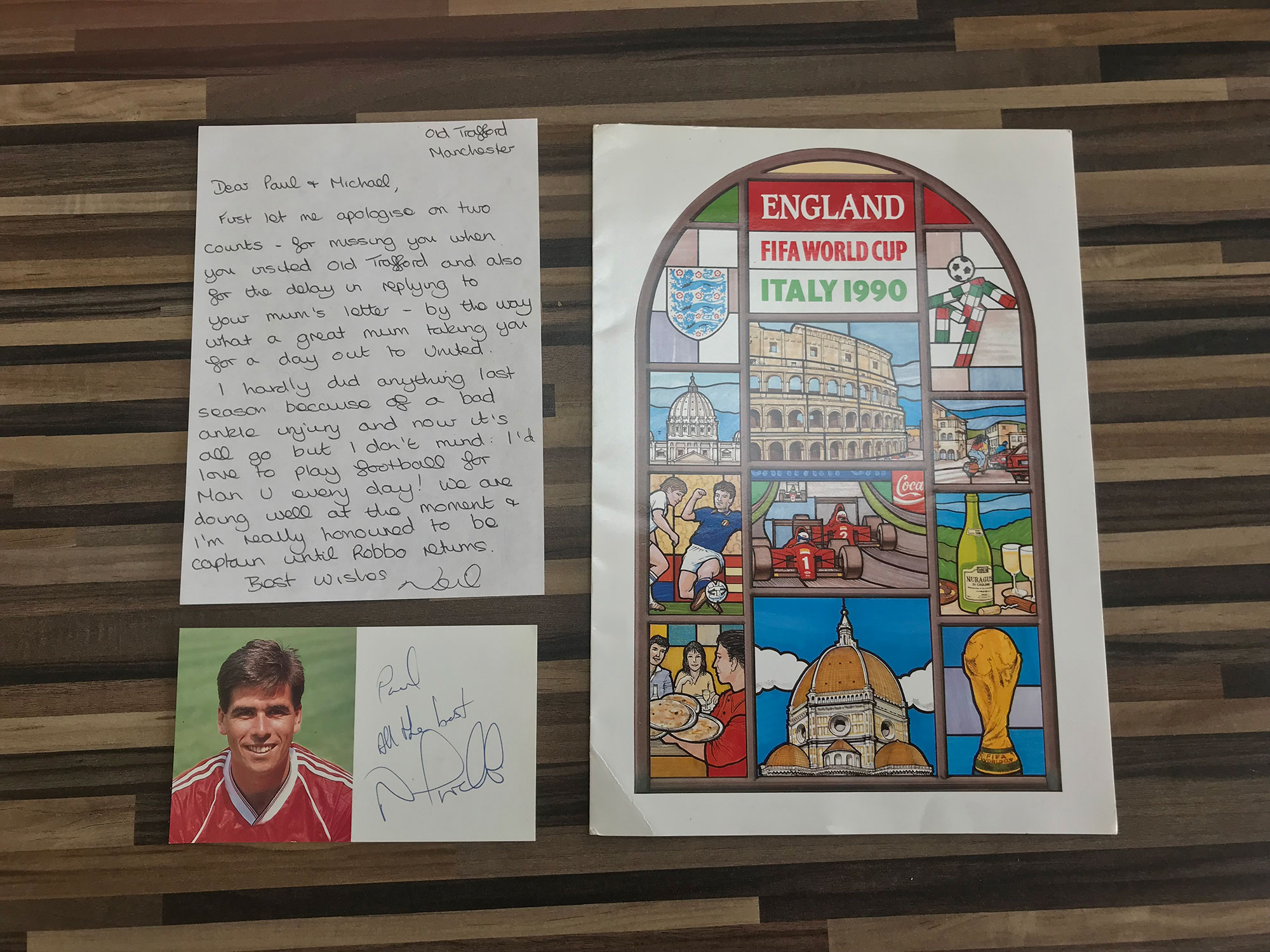 What an awesome response to someone who clearly loved being a footballer. And as you can imagine, I was over the moon with such effort. Pretty much starstruck! Some may say that Neil was never the same player after his injury, which may be true to a certain degree. The game moves on and personnel change, but Webb did play his part in United's history…That pinpoint cross to set Lee Martin up to score the F.A.Cup winner in 1990 for example.
The little kid inside me is still really excited 28 years on. My favourite Man Utd player wrote to us! Stuff only dreams are made of!
Are you World Cup – ready for tonight's game? If you are Football mad like us, check out a couple of World Cup apps in the App Store Armchair Pundit and Sofa Referee. We are convinced they will be right up your street. Or visit footietalks.com to find out more!
---
We want to know if the guys at @waatpies are #WorldCup ready? 🙂 https://t.co/WAIBe4VPLH pic.twitter.com/C98lGSl77C

— FootieTalks (@footietalks) June 12, 2018
---
---
Categorised in: App Apple Footietalks KidDotCo